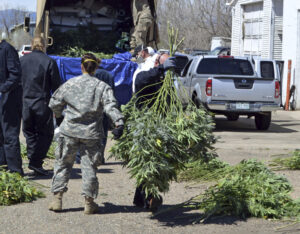 Illegal marijuana grows have been a persistent problem throughout the West, even in states that have legalized pot. A county in southern Oregon says it is so overwhelmed by illegal marijuana farms that it declared a state of emergency Wednesday, Oct. 13, 2021, appealing to the governor and the Legislature's leaders for help. A megadrought across the West has created urgency as illegal growers steal water, depriving legal users including farmers and homeowners of the increasingly precious resource.
To read the full article, click here ( https://www.seattletimes.com/seattle-news/marijuana/overwhelmed-by-illegal-pot-oregon-county-declares-emergency/?utm_source=twitter&utm_medium=social&utm_campaign=article_inset_1.1 )
For more information on the International Academy on the Science and Impact of Cannabis, and to join, please visit www.IASIC1.org.
Visit the IASIC Library here (https://iasic1.org/library/). The IASIC Library is intended as a user-friendly reference of the published medical literature.